Strengthening communities
Working together with local community
We look to work collaboratively with precinct partners, state governments, local councils, vocational and educational providers, community groups and others to identify and deliver programs designed to benefit the local communities in which we operate.
A few local projects we have supported
National Intermodal are excited to be partnering with social enterprise Play For All Australia to sponsor two inclusive, high-back swings in Southwest Sydney's Cameron Park and Lakeside Park, nearby to the Moorebank Intermodal Precinct. 
Installing inclusive swings in playgrounds within the local community means that every child – regardless of ability – can play, connect and belong. 
Swings in 12 local parks are being installed under the initiative, with Cameron Park and Lakeside Park sponsored-swings active and ready for the local community to enjoy. 
2 sponsored inclusive high-back swings for local parks
Over 9,162 total swings swung (and counting!)
14 swings installed across local parks alongside Liverpool City Council and business groups
35 swings installed across Greater Sydney as part of the initiative
Darcy Street Project is a social enterprise focused on delivering practical hospitality skills and employment training to the local youth community. Through education, coffee and food culture, Darcy Street Project aims to break the cycle of homelessness, unemployment and social exclusion.
Between 2019 – 2022, we partnered with Darcy Street Project to deliver youth-focused employment training to the Liverpool LGA through café and barista training facilities, pop-up event coffee carts and social impact catering.
The partnership has helped to fund over 500 hours of practical hospitality work experience for at-risk youth and helped Darcy Street Project to adopt more sustainable methods, including switching to biodegradable coffee cups which has saved over 50,000 disposable coffee cups from landfill.
We're proud to have supported Darcy Street Project as it continues to engage youth in positive food experiences and brings meaningful employment and training to affected youth within the Moorebank community.
500+ hours of practical work experience for students
3,000+ ready-made community meals distributed
50,000+ plastic coffee cups saved from landfill
Over 48 students trained in practical hospitality skills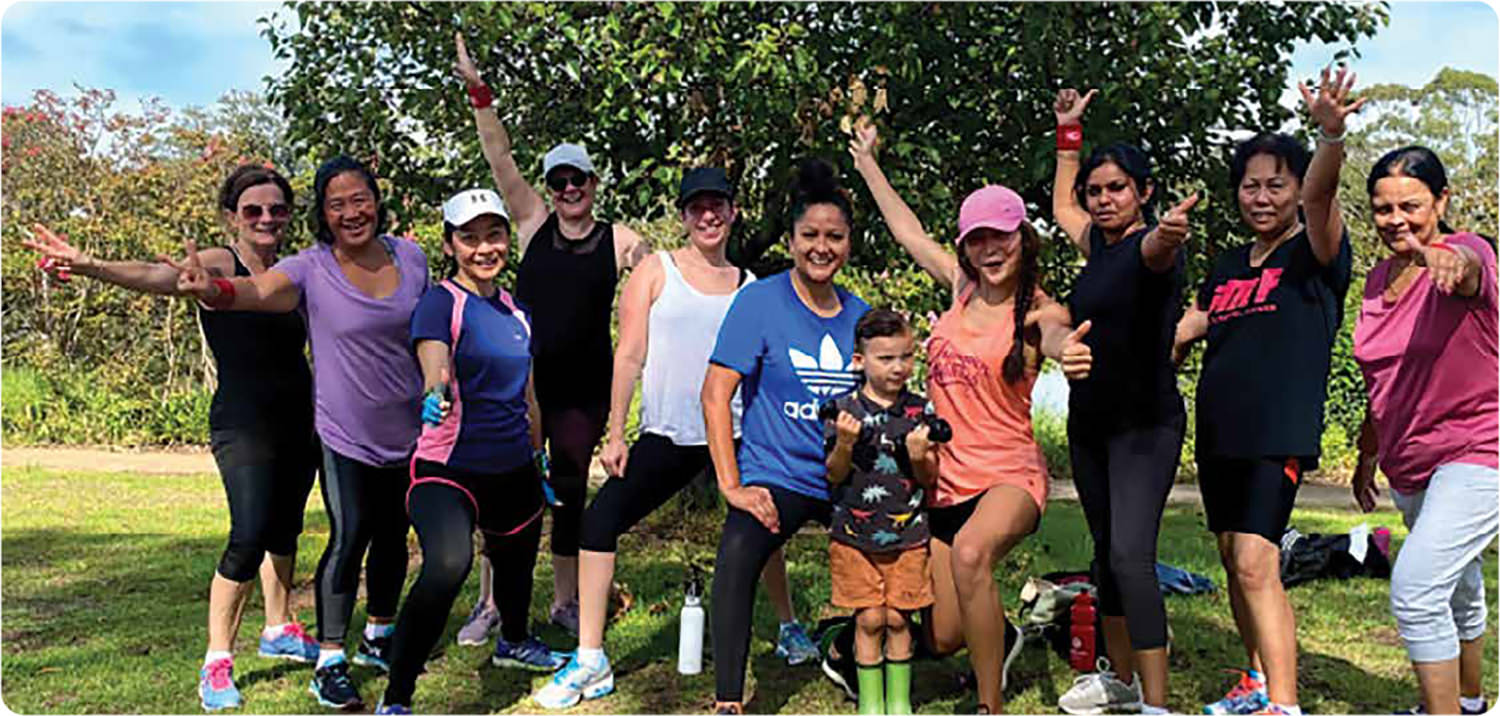 Live Life Get Active (LLGA) is a health promotion charity that offers free outdoor activity camps and nutritional and wellbeing programs to help address obesity, diabetes and mental health. Through free daily activity programs, including yoga, cross-training and boxing, LLGA assisted the local Moorebank community to get up and get moving, while providing a greater sense of belonging.
Between 2019 – 2021, we partnered with LLGA to sponsor three outdoor fitness camps and activate two equipment stations for local residents. The camps and equipment stations – located in Bigge Park, Casula Parklands, Throsby Park and Wattle Grove – have seen over 580 members participate, with more than 23 different nationalities represented.
While embracing body positivity, the partnership aimed to address and support growing health issues in the local community including high rates of obesity and diabetes and a growing sense of social disconnection.
Our investment in this partnership generated great results, with more than a combined 1,300kg lost between participants and a measured 10% reduction in obesity risk.
1,300kg combined weight loss
10% reduction in obesity risk
Environmental sustainability
Alongside the core benefits of shifting more freight to rail, we're committed to leading projects that are truly sustainable – environmentally, socially and economically.
About us
We support the Australian Government's vision for an efficient and effective transport sector, as laid out in the National Freight and Supply Chain Strategy, and are a critical enabler for a modern, efficient supply chain.
Reports
                                                                                            Stay up to date with plans and progress for the development of our intermodal precincts.